'Everything Sings,' with an introduction by Ira Glass
Oct 14, 2010
If you've listened to our episode Mapping, you know about the peculiar maps that Denis Wood has made of his neighborhood in Raleigh, NC. Now Denis has collected these maps into a book called Everything Sings, with an introduction written by Ira Glass.
If you haven't heard the episode, here's the deal: Denis mapped his neighborhood of Boylan Heights over and over, focusing on features that any normal cartographer would ignore: the glow of street lamps, the preponderance of jack-o-lanterns, the number of newsletter mentions (pictured), etc. It's a unique way of looking at space.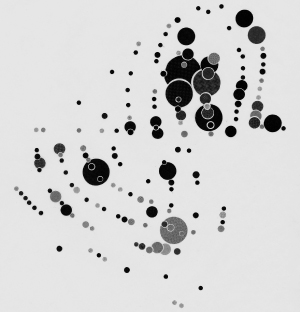 From Ira's introduction:
These maps remind me of all the radio stories I love most. After all, most radio is a boring salaryman, waking up before you and me to announce the headlines or play the hits to some predetermined demographic. Yet some radio stories elbow their way into the world in defiance of that unrelentingly practical mission, with the same goal Denis Wood's maps have: to take a form that's not intended for feeling or mystery and make it breathe with human life.
Siglio Press is offering a discount to This American Life listeners who order the book. Just enter the discount code TALMAP and you will get 20% off the cover price.
Enjoy.
- Your friends at This American Life