Please donate to support our free podcast and streaming
Dec 13, 2010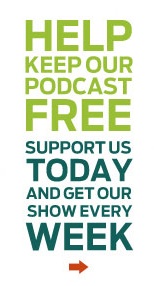 A message from Ira...
We've had a year of ambitious shows. Not just obviously hard stuff like our Iraq show, where we sent two reporters into Iraq for a month – the most expensive thing we've ever done. Or like our NUMMI show, which required tracking down dozens of carworkers from the 1980's to tell this amazing bit of history. We also did lots of hard stuff simply because it seemed like it would be incredibly fun: a full hour of stories pitched by our parents, an original Broadway song to accompany our investigative report about Magnetar, an hour in small-town Georgia doing stories inspired by an old newspaper column, the tale of a petty dictator who worked from a school maintenance office in Schenectady.
And in addition to the price of producing the stories, it costs our home radio station WBEZ Chicago more than $150,000 per year for the bandwidth for our podcast and web streaming.
We're trying to prove that you can do expensive, difficult stories, give them away on the Internet, and people will pitch in to pay for it.
I hope you believe in that idea too at least a little, and have been happy enough with this year's shows that you're willing to help us fund them. Throw us a dollar, or five dollars, or ten. It's cheap, it's only fair and we will work long hours and use everything we know to turn the money into great stories.
You can donate online at our website or via Paypal. Or if you text the letters TAL to the number 25383, a $10 donation will be added to your next phone bill (message and data rates may apply).
Thanks. We really appreciate the help.

- Ira Glass