Please donate to keep us producing stories
Jun 3, 2011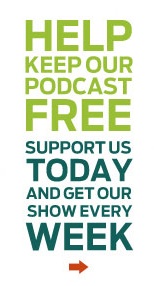 A message from Ira...
We've been doing all sorts of stuff to cut down on the number of times I come to you to ask for money for our show. Maybe you've noticed all the sponsorship messages in the podcast these days? More of those means less begging to you.
This June, instead of four weeks of asking you for dough, it's just going to be one week. This is that week.
These last few months, we've continued to try all kinds of ambitious stuff, some of it unlike anything we've ever tried before. There've been investigative stories, like the hour about a drug court judge in Georgia, and the one where we uncovered what seems to be the original recipe for Coca-Cola. There was the show where we tried to document the previous week in the life of our country and the one where we all took the psychopath test.
All that costs money. It also costs our home radio station WBEZ $150,000 per year for the bandwidth for our podcast and web streaming. Maybe you could just help us cover that cost, the cost of getting the program to you?
Or maybe the show means enough to you that you'll help us cover our other expenses: travel and recording equipment and raw meat to feed Adam Davidson? Throw us a dollar, or five dollars, or ten. Cheaper than a movie! Or if you give more, cheaper than a concert! Cheaper than your cable bill! Cheaper than lots of stuff you love less than you love us.
You can donate online at our website or via Paypal. Or if you text the letters TAL to the number 25383, a $10 donation will be added to your next phone bill (message and data rates may apply).
We'll put it to good use.
- Ira Glass