New USB drive & holiday merch sale!
Nov 30, 2011
Attention holiday shoppers,
We have a brand new USB drive full of rare, unreleased interviews. And lots of our merchandise is on sale for the holidays. We recommend ordering by December 15th if you want items to arrive by the 24th via normal USPS shipping.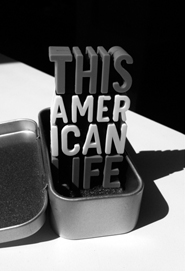 The new USB drive includes audio of more than a dozen interviews that Ira Glass has conducted on stage over the years, with luminaries such as TV host Rachel Maddow, author Michael Lewis ("The Big Short"), oral historian Studs Terkel, artist Chris Ware, comedian Jeff Garlin ("Curb Your Enthusiasm"), filmmaker Joss Whedon, composer (and Ira's cousin) Philip Glass, and more. Plus a few people turn the microphone on Ira, including Terry Gross and writer Dave Eggers. Fourteen interviews in total, most of which have never been available before. It also includes a 90 minute video of the This American Life staff on stage, talking about how we put the show together. Plus (yes, this is starting to feel like an infomercial for a blender) — plus seven of Ira's favorite recent episodes of the radio show. That's all on a little USB flash drive shaped like the logo of our radio show, in handsome black and white. Totally different content than our original flash drive, which contains 35 episodes of the radio show and is still available.
WE'VE PUT A BUNCH OF OTHER ITEMS ON SALE, including live show DVDs, posters, CD sets, and the limited edition 2-DVD set/book containing both seasons of our TV show plus 68 pages of behind the scenes photos and essays.
Again: we recommend ordering items by December 15th for delivery by the 24th via regular mail. Faster shipping options are also available. Go nuts.