Videos 4 U
Feb 12, 2015
Ira writes:
We have
a new video
! For Valentine's Day! It's the first installment in a short video series we're collaborating on with a filmmaker named Bianca Giaever. A bunch of us here at the radio show were admirers of a video that Bianca made when she was still in college called "
The Scared is Scared
." As she says in the video's opening, in this series she finds people who have something they need to say to somebody and she makes a video to help them say it. She posted flyers around New York – she thinks probably 400 or so – to find subjects. This wasn't so successful. Maia, in this first video, came from an announcement we made on the podcast.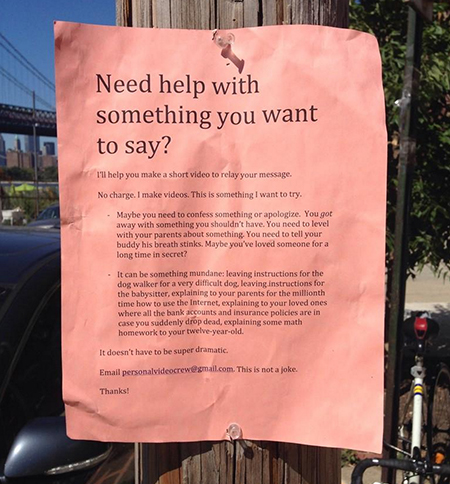 One thing we didn't realize till we were deep into the process of making this first video: we could also film the person the video was made for, as he or she watches this customized video message for the very first time. That
is here
and it's amazing to spin through. For one thing, you don't just see Maia's boyfriend, who the video was targeted at. Maia's in the frame too, and she watches the BF watch the video with this incredible look of excitement and nervousness and anticipation. Our partners in making this video – the people who did the actual work of getting props and lights and gear – were the producers at
M ss ng P eces
, who did a bang-up job of it. If you have something you need to say to someone, and you think a video might help you do that, write to Bianca at
[email protected]
.