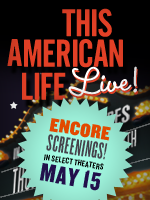 On Tuesday, May 15th, 2012, around 150 theatres across the US will present encore screenings of the stage show that we performed on Thursday May 10th in New York City, and beamed live via satellite to more than 600 screens in US and Canada. Hopefully there's a location near you!

There are also upcoming screenings on various dates at
independent venues in the US
, and screenings
across Australia
on May 26th and 27th. The show features stories by
Ira Glass
, writers
David Sedaris
and
David Rakoff
, comic
Tig Notaro
and
Snap Judgment
host
Glynn Washington
, plus live music by
OK Go
. It'll also include things you could never do on the radio, like a new short film by
Mike Birbiglia
, dance by
Monica Bill Barnes & Company
, original animation, projected illustration and more. Plus special surprise guests (who may not be a surprise anymore but are still great!). If you'll be attending and have a smartphone, we highly recommend you download
our live show app
! Ira writes:
I saw this amazing dance performance by Monica Bill Barnes' company, and I thought - that is totally in the style of our radio show. But obviously you can't have dance on the radio. Then I realized, we have to do another cinema event! We've built this lineup of stories mixed with super visual things, including the dancers I saw, so it's going to feel like the radio show but also totally unlike anything we've done before. I really can't wait to see how it turns out.
(UPDATE: we think it turned out pretty great!)