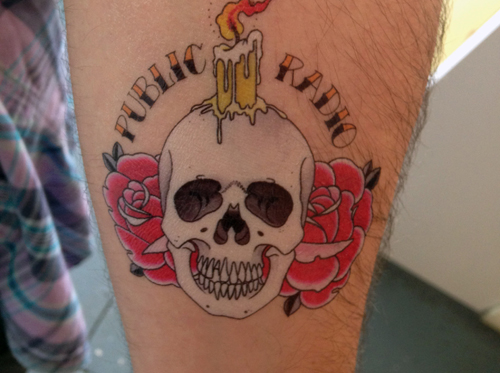 6/4/2013 UPDATE: Tattoos are now available in our online store.
One of the things you can get if you donate during your local public radio station pledge drive is a collection of public radio tattoos. Okay, they're temporary tattoos... but they were designed by real tattoo artists, and we think they turned out pretty great. WBEZ, NPR, WHYY and WNYC collaborated to produce the package, which includes tattoos for All Things Considered, Fresh Air, Morning Edition, On The Media and This American Life.
Public radio stations may order the tattoo sets from VisABILITY. They are custom manufactured by Tattly. Local stations decide whether or not they will offer the tattoos during their pledge drives.
Artists Alex McWatt, Andy Perez and Claire Keane created the designs. Alex drew the skull, bird, panther and snakes. Andy drew the bulldog, serpent/dagger and the tribal. Claire drew the mermaid.
The names "All Things Considered" and "Morning Edition" are trademarks of NPR and used with permission. "Fresh Air" is a trademark of WHYY and used with permission. "On The Media" is a trademark of New York Public Radio and used with permission. "This American Life" is a trademark of Chicago Public Media and Ira Glass. ALL RIGHTS RESERVED.
Below are images of the tattoos, plus photos of public radio producers and hosts wearing them. Want to join? Upload your photo, and we'll add it to this page.