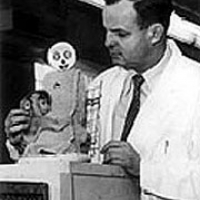 Sep 15, 2006
Stories of unconditional love between parents and children, and how hard love can be sometimes in daily practice.
Alix Spiegel tells the story of a couple, Heidi and Rick Solomon, who adopt a son who was raised in terrible circumstances in a Romanian orphanage, unable to feel attachments to anyone...and what they do about it. (27 minutes)

Song: "Loveless Town", Sarah Blust
Photo
Harry Harlow, from the Prologue.