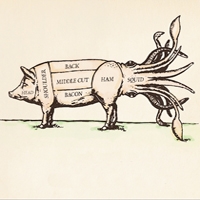 Jan 11, 2013
We got a tip about a meat plant selling pig intestines as fake calamari, wondered if it could be true, and decided to investigate. Doppelgangers, doubles, evil twins and not-so-evil twins, this week. Fred Armisen co-hosts with Ira Glass.
Video of Fred's impression of Ira is
here
.
For decades, the writer

Alex Kotlowitz

has been writing about the inner cities and the toll of violence on young people. So when he heard about a program at Drexel University where guys from the inner city get counseling for PTSD, he wondered if the effect of urban violence was comparable to the trauma that a person experiences from war. Kotlowitz talks to a military vet from Afghanistan and a guy from Philadelphia who's lived in some pretty bad neighborhoods to find out if they are doubles of some sort. Alex's is the author of the book

There are No Children Here

and producer of the documentary film

The Interrupters

. (23 minutes)

Special thanks to the program

Healing Hurt People

at Drexel University for assistance with this story.