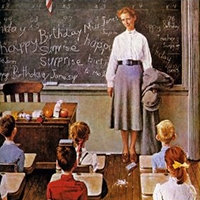 563: The Problem We All Live With - Part Two
Aug 7, 2015
Last week we looked at a school district integrating by accident. This week: a city going all out to integrate its schools. Plus, a girl who comes up with her own one-woman integration plan.
Chana Joffe-Walt talks to Kiana, who went to a school that was overwhelmingly black and Latino, but when some white students showed up one day on an exchange program, she went up to them eagerly. And since then, has embarked on a one-woman school integration program. Among other things, she wanted to see "white wasted." (9 minutes)

Chana Joffe-Walt reports on the Hartford, CT school system, which actively seeks to integrate. The results have been impressive. It used to be that 11% of Hartford students were in integrated schools. Now it's nearly half. But the trick to the whole thing is: convince white families it's in their self- interest to go to integrated schools. This requires the kind of marketing skills and savvy we're more used to seeing at Apple and Pepsi than we are at a public school district. (38 minutes)

There's a book by Susan Eaton about Hartford's integration plan, called

The Children in Room E4

.

Reporter Nikole Hannah-Jones, who has investigated integration in schools for years, joins Chana Joffe-Walt to interview the Secretary of Education, Arne Duncan. The Obama Administration says it's in favor of integrating the schools, but doesn't seem to do so much to promote it. They seemed to have the perfect opportunity, integration advocates say, with their Race to the Top program. But even then they didn't act. Nikole and Chana ask: what's the deal? (8 minutes)
Photo
School Teacher, by Norman Rockwell. From the website of the Norman Rockwell Museum.