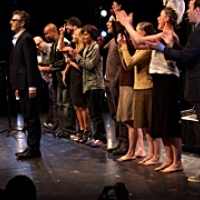 464: Invisible Made Visible
May 18, 2012
This week, the radio debut of the episode we just did live on stage and beamed to movie theatres all over the country. David Sedaris, David Rakoff, Tig Notaro and Ryan Knighton performed stories. Mike Birbiglia made a short film, co-starring Terry Gross, which you can see
here
.
You can download the full show here, or purchase the DVD in our store.
Watch the animated intro created by Claire Keane, Vincent Rogozyk and Chris Sonnenburg here.
Ira interviews Ryan Knighton, a blind guy who had a very peculiar experience with a hotel room telephone. Then Ira introduces the rest of the show, which was recorded live on stage in New York City and beamed to movie theaters in the US, Canada and Australia. (7 minutes)

Ryan Knighton, who was interviewed in the prologue, tells this story about trying to get his daughter to understand his blindness. Ryan is the author of the memoirs

Cockeyed

and

C'mon Papa

. (7 minutes)

Famous people are supposed to be somewhere else, invisible to us. Comedian

Tig Notaro

tells this story about repeatedly running Taylor Dayne, who was a pop star in the late 80s and early 90s. At the end of the story, we have a little surprise for Tig. Tig hosts the podcast

Professor Blastoff

, and has a comedy album called

Good One

. (16 minutes)

David Rakoff tells this story, about the invisible processes that can happen inside our bodies...and the visible effects they eventually have. David is the author, most recently, of

Half Empty

. (14 minutes)

Ira Glass's sister once met David Sedaris, and commented that he was much nicer than she thought he would be, given his writing. David replied, "I'm not nice, just two-faced." In this story, David shares the thoughts running through his head as he attempts to buy a cup of coffee. David is the author of many books, including Squirrel Seeks Chipmunk: A Modest Bestiary. (8 minutes)

Photos from the show, by

Adrianne Mathiowetz

.
Photo
Adrianne Mathiowetz