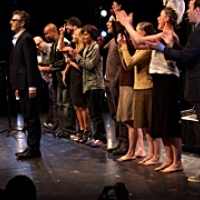 May 18, 2012
The radio version of an episode we did live on stage and beamed to movie theaters all over the country. David Sedaris, Tig Notaro and Ryan Knighton perform stories. Plus the late David Rakoff, in his final performance on the show.
The other half of the two-hour performance was visual, including dancers, animation, and a short film. You can
download video of the entire show
.
Ira interviews Ryan Knighton, a blind guy who had a very peculiar experience with a hotel room telephone. Then Ira introduces the rest of the show, which was recorded live on stage in New York City and beamed to movie theaters in the US, Canada and Australia. (7 minutes)
Photo
Adrianne Mathiowetz