When Ira Glass met Michael Jackson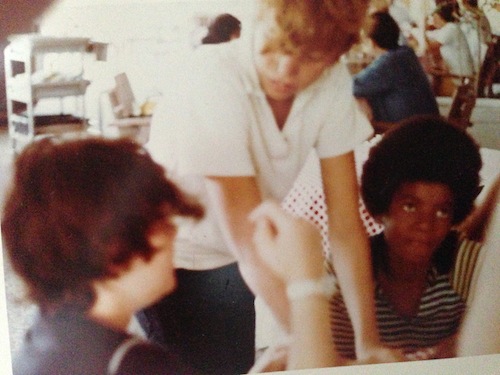 From left: Ira Glass, unidentified kid, Michael Jackson. August, 1972.
Ira writes:
I gave a six-minute talk at the Academy of Arts and Letters last week, when they gave me a medal. A section of the talk concerns the photo above, of me and Michael Jackson.. The Academy is supposedly made up of the 250 greatest writers, composers, artists and architects in the country. One has to die for another to join. It's been around since 1898. Its membership is a hilariously intimidating list of writers you read in school and iconic cultural figures you'd never think you could meet: Joan Didion, Lawrence Ferlinghetti, E.L. Doctorow, Paul Auster, Toni Morrison, Robert Coover, Elie Wiesel, Don DeLillo, Tom Wolfe, David McCullough, W.S. Merwin, Claus Oldenburg, I.M. Pei, Richard Serra, Chuck Close, Michael Graves, Red Grooms, Tony Kushner, Maya Lin, David Mamet. The medal I received — for Spoken Language — has these previous winners: Bill Clinton, Mario Cuomo, Paul Robeson, Claude Raines (you know, from Casablanca). Crazy, right? They award the thing on the stage of the vast clubhouse they have in New York, a building the size and general vibe of a museum. There's a room that looks like something from Hogwarts School where members meet, and I was told that each chair has little nameplates with the names of the members who'd been assigned that chair. One of the members said Mark Twain's chair is there. Anyway here's the video. Calvin Trillin, whose writing I've always loved, gives the award.