If you've heard our show and you want to make stories like the ones we do, there's good news: there are lots of places where you can learn.
First and foremost, there's a website called Transom.org where you can find essays by the most experienced people doing radio documentaries, including a few This American Life regulars (Nancy Updike, Alex Blumberg, Jonathan Goldstein, Sean Cole, Dave Kestenbaum, John Hodgman, Sarah Vowell, Paul Tough and Scott Carrier) but also greats like Errol Morris, Studs Terkel, Robert Krulwich, Brooke Gladstone and Dave Isay.
Ira Glass's "Manifesto" on Transom is here.
DIY Radio Guides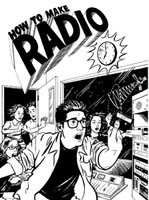 How to Make Radio Comic Book
We put this comic book out as a how-to, for anyone who wants to make radio stories. It's illustrated by Jessica Abel and written by Jessica and Ira Glass. You can also get it as a PDF download.
Radio Diaries Teen Reporter Handbook
Don't be put off by the title. This handbook – which is free and online – has lots of advice that'll be useful to any beginner.
The DIY Radio Rookies Toolkit
Includes their own comic book, instructional videos, and tip sheets, all downloadable for free online.
Reality Radio: Telling True Stories in Sound
John Biewen, editor, with Alexa Dilworth
This book, by the Center for Documentary Studies, includes essays by lots of producers, including Joe Richman, Jay Allison, the Kitchen Sisters, Stephen Smith and Ira Glass.
HowSound
Podcast on how to make radio documentaries (with additional archives under the Saltcast name).
On Storytelling — Videos
Ira writes: "These videos were shot by producers with that TV channel Current.com, which encourages amateurs everywhere to shoot and make their own stories and put them on the air. It's one of a series of videos they did with all kinds of broadcasters giving tips to beginners. On the Internet, I seem to be more famous for these videos than for any of my actual work."
This American Life
producer Brian Reed spoke at
The Conference
on "The Craft of Storytelling" about the three key elements of a good story: action, reflection, and stakes.
Transom worked with videographer Andrew Norton to create the
This Is Radio
series: video portraits of radio producers talking about their process.
Check out the whole series
here
.
The Gear We Use:
This American Life
producers record in the field on Marantz PDM 661 digital recorders, with Audio-Technica shotgun microphones (AT835b, AT8035 and AT897). We like shotgun mics because they give you a prettier sound for interviews with less room noise, and when you need to capture the sounds of machines clicking and cows mooing and all the other ambient audio that makes up a radio documentary, you can point at what you're trying to record and isolate it from the surrounding environment a bit. Occasionally in specialized situations we'll also use a wireless mic, which is a great thing to have but definitely not a necessity for a beginner. Ira recalls: "I bought my first wireless when I was 33. I'd worked in radio for 14 years without one. It was, no kidding, more expensive than the car I drove at the time, a pro Lectrosonics rig that cost me $1800." We edit and mix the radio show on Mac computers with Pro Tools, using its basic Mbox 2 setup. Our studio mixer these days is a nifty little six-fader Axia broadcast console. In the studio we have Shure KSM-32 mics, which are the great $500 knockoffs of the gorgeous $3400 Neumann U87's you hear on the big NPR news shows. Ours were actually donated to us by Mrs. Shure in the early days of our show. Shure Inc. is located in the Chicago suburbs and we suppose she must've been a fan of WBEZ. For more details on our gear, software, and process: Ira wrote a "How I Work" article on
Lifehacker
.
And Transom also has a Tools section that has a bunch of reviews of cheap, good equipment you can use to make radio. They have guides on how to do digital editing and mixing.
Jobs and Internships:
Schools:
Third Coast Audio Festival
The Third Coast Festival is both an international radio competition and a convention of like-minded radio people from around the world. Here are some useful discussions from the festival:
The Public Radio Exchange
PRX
's mission is to find ways to bring newcomers into public radio. They have a system for you to get your stories out to stations, and a special project for younger producers called
Generation PRX
.