This American Life Android app!
Oct 29, 2010
We're pleased to announce our new This American Life app for Android phones, which gives you on-demand access to our entire archive of more than 400 episodes of the radio show, plus exclusive audio and video extras. The fine folks over at Public Radio Exchange (PRX) built it for us.
You can also use the app to search by contributor, view staff favorites and create your own favorites list, read blog updates, and connect to the weekly live feed on Friday nights - all via cellular connection or WiFi.
You can only download the app directly to your phone. If you visit thisamericanlife.org on your Android phone, you'll be invited to purchase the app. Or click this link from your phone's browser: http://market.android.com/details?id=org.prx.talbot.
The app is designed to work on all phones running Android OS version 1.6 or higher.
It costs three bucks, just like our iPhone app. Here are a couple screenshots: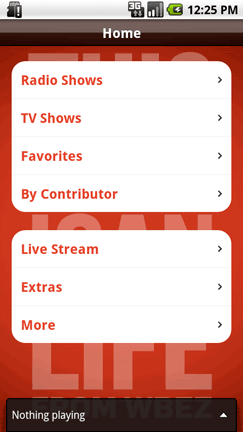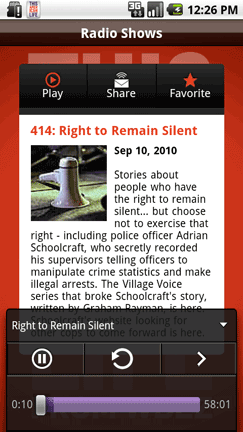 And for the super-nerds, here is our "QR Code." Scan it with an Android barcode scanner app, and you'll jump to the
This American Life
app in the Marketplace. Set phasers to stun: