"TOLD" - Monday 2/21 in NYC
Feb 19, 2011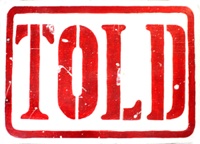 TOLD is a long-running monthly storytelling show in New York City, hosted by This American Life production manager Seth Lind (whom you may remember talking about seeing The Shining when he was seven years old, in our episode Fear of Sleep).
The theme of the show this coming Monday, February 21st is "A Higher Power" - stories involving religion. Storytellers include This American Life contributors Elna Baker and David Ellis Dickerson, plus Aaron Wolfe, Michele Carlo and Jesse Cameron Alick. 7PM at Under St. Mark's Theater in the East Village. It's a small venue and seating is first-come, first-served. Admission is pay what you will. Here's the event page on Facebook.
And if you want to hear about upcoming installments of Told, "like" this page on Facebook.
TOLD: "A Higher Power"
Monday February 21st - 7PM
Under St. Mark's Theater - 94 St. Mark's Place, NYC
TOLD showcases storytelling of the highest caliber. The candid, hilarious stories leave you feeling a little less alone in the world. Very cool.
- Ian Roberts, Upright Citizens Brigade