Ira's Blackout Drunk
Sep 28, 2011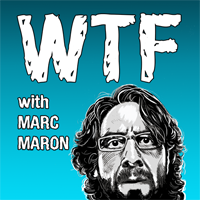 Ira writes: Hi all! A week ago I appeared onstage with Rachel Maddow, John Hodgman, Eugene Mirman and others, and the next morning, woke up in my own clothes, in my own bed, smelling faintly of vomit, unable to remember anything that happened onstage after the first 15 minutes, not even sure how I got home. I'm not proud of this. I bring it up only to say that I told the entire story onstage to Marc Maron for the
WTF podcast
and if you want to hear it,
the link is here
. Overall, it's a pretty great episode of Marc's podcast, with Morgan Spurlock and a bunch of comedians including—astonishingly—Artie Lange. I got to meet and sit onstage with Artie Lange! And if you don't know who he is, all I can say is, you have not listened to enough Howard Stern. Like any Stern fan, I love Artie. He's my favorite on that show by far. I've seen him perform at a comedy club and at Carnegie Hall. He has no idea who the hell I am. Terry Gross did the definitive interviews with Artie, in
2006
and
2008
, but I guess his knowledge of public radio doesn't go far beyond
Fresh Air
. Improbably, against an amazing lineup of comedians, the person who hits it out of the park in this WTF episode, for my money, is Elna Baker, who's been on our show a couple times. I'm not sure this episode of WTF is as great as the very funny
Episode 164
, where the guests were Bill Hader, Fred Armisen, Eric Drysdale, Chuck Klosterman and Sarah Vowell, or the amazing
Episode 200
, where comedian Mike Birbiglia interviewed Marc (Mike's nice-guy demeanor helps him get away with some super tough questions like "what happened in your divorces, anyway?" and "you were great when I first saw you perform and then am I mistaken or didn't you go through a stretch of mediocrity?"), but it's a really funny episode nonetheless.