Balloon Animals, BJs, Cigarettes, and Teenage Girls
Oct 22, 2012
Ira writes: This post exists for two reasons: 1) To let you know that I did
a video
for the website
Rookie
that might amuse you. In it, I teach teenaged girls how to make balloon animals while — and here's where it gets a little odd, I admit — I answer their questions about crushes and BJs and other pressing issues in their lives. 2) I wanted to make sure our teenaged listeners and parents of teenaged girls know about
Rookie
. Because
Rookie
is awesome. Okay, first the video.
Rookie
does a series called "Ask a Grown Man" where guys like
Paul Rudd
,
Jon Hamm
and
Judd Apatow
answer teenagers' questions about boys in their lives and boys in general.
BJ Novak
did the best one ever, only rivaled by
Paula Pell
.
Balloon Animals: A Video Tutorial by Ira Glass from Rookie on Vimeo.
Okay, more about
Rookie
.
Rookie
was started by a then-15-year-old Tavi Gevinson (she's 16 now and a junior at a public high school) who felt that most of the culture being made for (and sold to) girls her age didn't speak to her actual experience. The 90's had
My So-Called Life
and
Sassy
magazine and
Freaks and Geeks
. There's no equivalent today. Teen girl magazines are deeply concerned with tips on getting a boy or getting thin for summer bathing suits. That wasn't so interesting to Tavi. She wanted to make something that wouldn't talk down to teenagers. As Tavi says in
her first editor's letter
: "
Rookie
is not your guide to Being a Teen. It is not a pamphlet on How to Be a Young Woman. (If it were, it would be published by American Girl and your aunt would've given it to you in the fifth grade.) It is, quite simply, a bunch of writing and art we like and believe in." The result is a hilarious, sometimes moving, beautifully art-directed mix of personal stories, essays about TV shows and movies, photo shoots, original songs, and candy reviews. It simultaneously takes itself very seriously — and has the courage of its convictions — and doesn't take itself seriously at all. Which is of course the best combination a person could hope for. Some representative posts:
Advice on
how to get through high school from Joss Whedon, Zooey Deschanel, Dan Savage, Fred Armisen, Jack Black and other famouses.
An appreciation
of
Freaks and Geeks
from someone way too young to have seen it when it first was broadcast.
An appreciation
of Joan Didion.
Tavi writing
about getting to the age when girls start to get cat calls. Months later all the
Rookie
writers had
this conversation
about being harassed on the street. A teenaged photographer's
photo essay on heaven
and her
3-D photo essay in Japan
. I love the photography on
Rookie
.
Candy reviews
, more
candy reviews
, and
a candy review video
by the cast of
Parks and Rec
.
DIY how to
make a flower crown,
DIY how to
do a two-minute beehive,
DIY how to
make a bitchface. Tavi
teaches Jimmy Fallon
to do a bitchface. Lena Dunham, Sarah Silverman and other celeb women
write about
losing their virginity.
A great interview
with Carrie Brownstein and
one
with cartoonist Daniel Clowes. Maggie's
story
of losing a teen friendship over Risk. Jenny's
story
on parents who don't let you out of the house. Sady's
story
about being diagnosed with a mental illness.
Ruby's diary
(real teenage diaries are a weekly feature on
Rookie
) the week after her mom died, writing about the funeral. Her heartbreaking closing lines: "It was a beautiful day, but she would have been freezing. She was always cold." And finally, a
story
by Miranda July on her first feminist action which justifies the whole mission of the website all on its own. There's also
a book of greatest hits
from the first year of
Rookie
. Full disclosure: my wife helps Tavi run the site. Yes, her boss is a high school junior. Tavi started writing a fashion blog called
Style Rookie
when she was 11. She's such a funny and honest and interesting writer that soon she was noticed not as a kid novelty act but in
The Guardian
's list (and others' lists) of best fashion bloggers. Big designers became fans and started flying her as their guest of honor to shows in Paris and Japan. At the New York runway shows she sits next to Anna Wintour, of
Vogue
. Early on, when the
New York Times
got in touch wanting to write about
Style Rookie
, Tavi had to reveal to her parents that she'd been quietly writing a blog.
The New Yorker
also
wrote a profile
.
Here's
her 12-year-old style.
Here's
an early video from
Style Rookie
days where she performs a rap she wrote about the Comme des Garcons collaboration with H&M (her parents let her go to school late that day so she could make it to the store first thing in the morning).
Here
she discovers feminism, years ago.
Here
she announces she's not that into fashion anymore (causing an outcry from the Fashion Blog Community).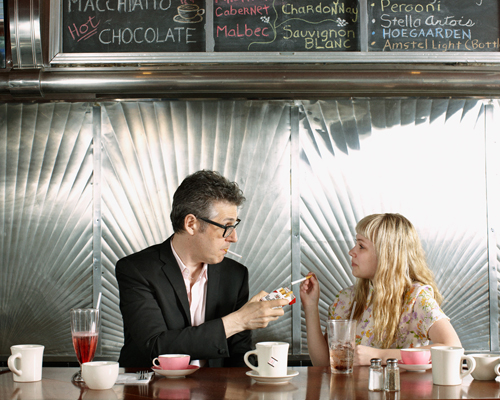 This photo was taken for an article someone wrote about the two of us. Yes, Tavi and I know smoking is bad. No, neither of us smokes. Yes, we just thought it would make an interesting picture. Yes, we're hoping children won't start smoking because we were photographed with cigarettes. If you're a child looking at this picture now: please don't smoke.
Image by Kyoko Hamada.