Carnegie Hall: Sunday!
May 28, 2013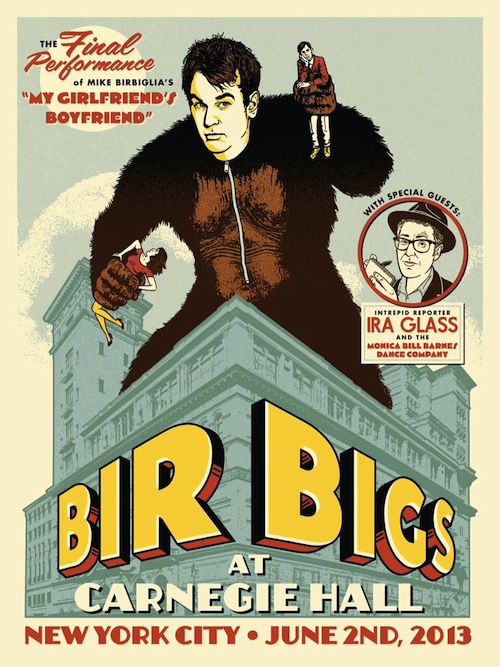 Ira writes: This Sunday our contributor Mike Birbiglia is doing the last performance of his one-man show
My Girlfriend's Boyfriend
, after a long New York run and over a year of touring. Some of the stories in this show began as
This American Life
pieces, but over the last 18 months, Birbigs has rewritten and remade a lot of the show. I saw it in its first run in New York and am dying of curiosity to see the changes he's put in place. About a fourth of the show is new and what that means is not just that Mike swapped out better punchlines here and there; he re-engineered some of the storytelling and structure. As a result, I'm told, the show's now more emotional and more affecting. And yes, funnier, which isn't easy because it got huge laughs in its original version. I and the Monica Bill Barnes Dance Company are the opening act, doing one of the stories from our new show where I tell stories and they dance. We played Carnegie Hall once before, and brought down the house - a review is
here
- and we hope to do it again. It'll be a really fun night. Never to be repeated. And by Carnegie Hall standards, the ticket price is cheap!
TICKETS
Here's a video of Mike and me, talking about
My Girlfriend's Boyfriend
(and how he kept re-editing the show):