New Merch And Holiday Sale!
Dec 3, 2013

Attention, purchasers of America: we are proud to participate in the annual orgy of consumption by reducing the prices on several items that are perfect for fans of
This American Life
, or really anyone who likes to amass physical goods. We also have some new merchandise in the store, for the giftee who formerly had everything. And while supplies last, we're throwing in a
free decoder ring
with every order. (
Update:
sorry, all decoder rings are gone!)
Sleepwalk With Me
, the movie we recently made with comedian Mike Birbiglia and toured movie theaters with across America in 2012, was just recently added to our store
on DVD
(now on sale for 15.00)
and Blu-Ray
(now 19.00). Our
custom
USB
sticks, which have been huge hits of holidays past, are each curated with hours of entertainment in full episodes and video extras. They come in cute little gift tins and either can be yours for 28.00 each. All of
the posters
from our live shows (from 2007's "
What I Learned In Television
" to "
Invisible Made Visible
" in 2012) usually 25.00, have been marked down to 19.00. You can grab
the DVDs
for those shows for another 16.00. We also have the handsomely packaged DVD set of
Lost Buildings
, an older collaboration between Ira Glass and Chris Ware that has never been heard on the radio, marked down from 35.00 to 29.00. Also we have
some
CD collections
on sale
. The sale will go from today,
December 3rd, to January 1st, 2014
.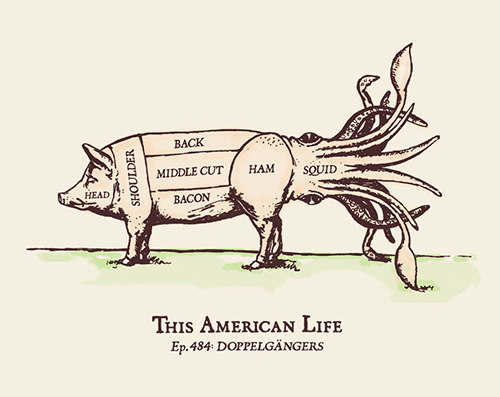 Oh ... and did we mention that, brand new to our store this week, you can now order
a shirt
or
a print
featuring a pig with a squid for a butt? Good news! You can. We recommend all domestic holiday orders get placed by
December 16th
to ensure timely delivery by first class mail: expedited and international options are also available. Happy shopping!