Ira: OMG I just got punked by Charlayne Hunter-Gault and Gayle King on Network TV!
Apr 2, 2014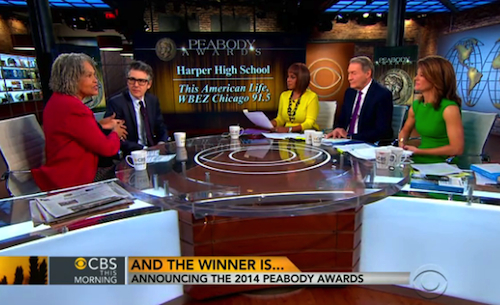 Ira writes:
I was asked to host the award ceremony for the
Peabody Awards
this year. And yes, you may not have heard of it, but for anyone in radio or TV it's a big big deal. The winners this year include iconic, best-ever shows like
Breaking Bad
. They
announced the winners today live on CBS This Morning
. One of the judges, Charlayne Hunter-Gault was there. As the host of the ceremony in May, I was there. Yesterday I was sent a list of this year's Peabody winners. All of us at
This American Life
hoped we might get an award for our shows about
Harper High School
. And when I read the list of winners, it was, honestly, a huge disappointment to see that we weren't on it. Everyone here was pretty bummed. Then this morning at CBS, I talked to the guy who runs the Peabody Awards as I waited to go on TV. We're making small talk, and he brings up "Harper High School." He tells me how he and the judges loved it, but there were so many great submissions this year, it was so hard to pick winners, blah blah blah. He actually seemed a little nervous having to say this to me and I felt kind of bad for him. We both got very polite with each other. What can you say, really? We hadn't measured up! Then I go on TV with Charlayne Hunter-Gault and she's reading the winners and the third one she reads is … Harper High School! I was stunned. Really stunned. In fact, right before she said it, I glanced down at her note cards and saw "Harper High School" and almost pointed to it and said "No no, that's a mistake. We didn't win." Charlie Rose is one of the hosts of
CBS This Morning
and apparently he didn't know he'd won either. They announced it on the show. Gayle King and Charalyne were the only ones who knew. So that's how I got punked by the country's oldest and most venerated broadcast award, and by Charalyne Hunter-Gault and Gayle King. Not sure what appropriate payback for this is but y'all are on notice: watch your backs. A Peabody special will air on the Pivot TV network. Full list of winners is
here
. We've also won Peabody Awards for our episodes "
Habeas Schmabeas
," "
The Giant Pool of Money
" and "
What Happened at Dos Erres
." In our first year on the air, 1996,
This American Life
was given an award for capturing "contemporary culture in fresh and inventive ways that mirror the diversity and eccentricities of its subjects."