Full episode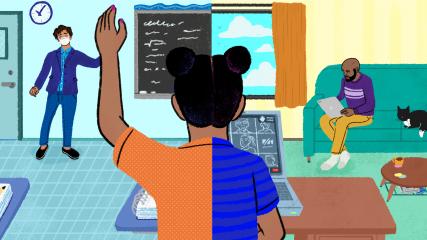 764: School's Out Forever
Big Mother Is Watching
When school closed and threw routines into disarray, one mom and daughter figured out a new way to make it work. The question is: can it keep working? (24  minutes)  
More in Education
A middle schooler really wants to trust the adults have her best interests in mind.
DeSantis has passed law after law about what can and can't be taught in Florida classrooms, starting as early as elementary school. And last spring, Florida Republicans introduced a bill initially proposing to ban things like critical race theory and identity politics, or students majoring in things like gender studies in Florida universities. Reporter Emmanuel Dzotsi followed how things unfolded at one of the biggest universities there, Florida State, from the bill's introduction all the way to its passage.
Over the last few years, producer Chana Joffe-Walt has been checking in with someone who wears the mantle of being "it" well.
More by Chana Joffe-Walt
Producer Chana Joffe-Walt talks to researcher Mary Koss about how she came to see a thing that others couldn't, and about what she did with that knowledge. (15 minutes)
Producer Chana Joffe-Walt tells the story of a woman who took it upon herself to do something in an effort to help, and was not well received. (8 minutes)
The pandemic moved lots of families around, and many children simply vanished from school, in person, and online.